About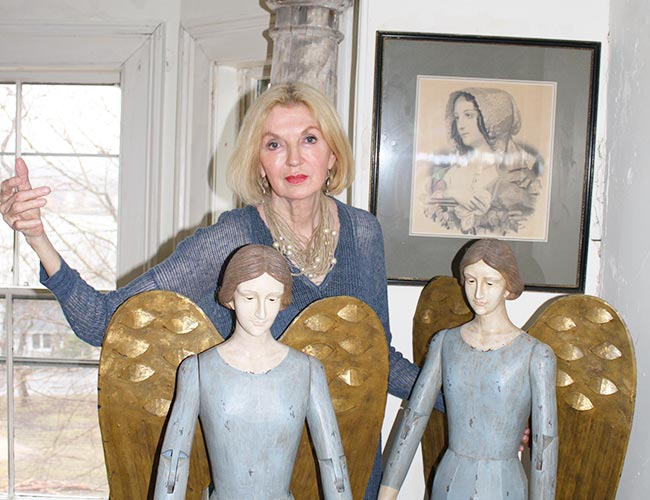 The Owner
"I have always been drawn to ancient places and things.
I have looked for the reflection of my own life through the hologram of past lives, which alters the phenomena of past, present, and future." Friederike (Fritzi) Mittellehner
Fritzi was originally born near Vienna, Austria, has lived in Clementsport (Nova Scotia) since 1995, and has owned and operated Clementsport Antiques since then.
While living in Salzburg, Austria, she apprenticed in sculpture under the renowned Austrian sculptor and fine artist Arno Lehman.
Simultaneously she did an apprenticeship in antiquities, studying art history and stage design at the Mozarteum in Salzburg.
In 1978 (after moving to Vienna), she graduated from the Academy of Fine Arts with a master's degree in costume and stage design.
From the early 1970s to 1980s, she exhibited paintings and dressed sculptures throughout Europe.
The Collection
With a beautiful setting offering a sweeping view over the Annapolis Basin, the gallery is housed over two floors of the charming, quirky former carriage house adjacent to Fritzi's c1803 home (once a stagecoach inn). Everything on display is either in excellent original condition, or has been professionally restored to a very high standard.
Visit Clementsport Antiques to find something unique from the ever-changing collection which includes fine art, high quality antiques, objets d'art, and carefully selected treasures from Asia, Europe, and (of course) North America.
Among the national and international treasures, one might find Franz Schubert's letter box (currently on display in Vienna), or anything from a fascinating mid 19th century Sicilian folk art reliquary (container or shrine for sacred relics) to a magnificent Frank Lloyd Wright complete dining set. Art includes works by Miller Gore Brittain, the Group of Seven's Ian Dobson, and much more. There are lovely retro pieces from the 1950s and 60s, lamps with handcrafted shades, and a fine selection of mid-century artwork, plus formal, country, and period furniture including a selection of Thonet chairs.